Good afternoon, dear partners, we and the Stories AR team are pleased to present to you, the biggest update to the Stories AR PRO platform. Version 2.0. In this article we will tell you about all the new features and changes. Let's get started!
1 — Completely redesigned.
Before making the platform update we interviewed more than 300 current partners. We figured out all the shortcomings and expectations and set the goal: «For every partner to spend minimum resources/time on implementation of augmented reality and earn more. We made a new design focusing on simplicity and speed. Fewer clicks, more AR.
2 — Bulk/package uploads.
Doing small orders? Take advantage of piece-by-piece file uploading. And if you're doing albums or making art objects, number your files and upload with batch upload. You can also now simply drag and drop files into the upload area
3 — File Upload Process.
See how long there is left to upload files? Perfect. We also optimized the upload process at this stage and increased the download speed by 2 times.
4 — Previews for Photos and Videos
Now you can see what files you have uploaded to PRO. It has become easier to navigate through the uploaded files.
5 — Adding a mask/link/text on one screen.
Now you don't need to go to a separate page to add text and links. Add them right as you upload your photo and video files.
6 — Search and sorting
You asked for it — we did it. Instant search, without reloading the page. Find files by title in the search. Also sort by paid and test files.
7 — File editing.
The cherry on top of the cake. What you asked for the most. Now you can add, remove, replace files in any QR codes. Old and new. Test and paid. Balance is written off only for new files uploaded to the server.
8 — Affiliate program
Give a friend $ and get $ on the map. Earn $49 for each invited user. Send a friend the link he will receive 50 photos on the balance +2 months license. You'll get 49$ on your card for each invited friend. Get Started Today
9 — Adapted mobile version
Creating an AR through your cell phone is easy, quick and simple. You can take photos and videos on your cell phone and create AR right from your smartphone. Everything you do in the mobile version you can easily see in the PC version and edit if needed.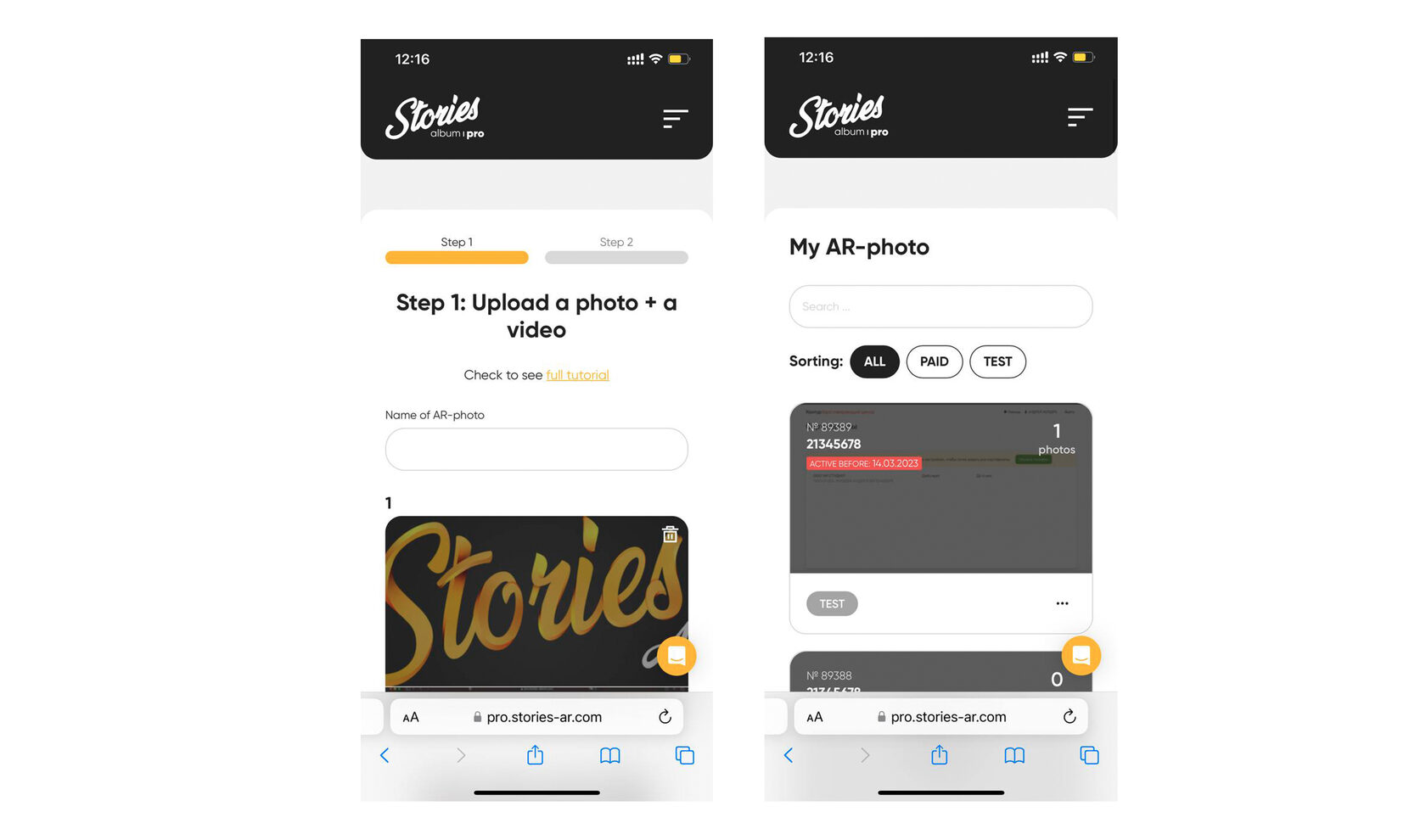 10 — Working with animated photos without downloading the app
There's no need to download the app now. Just point the phone camera to the QR-code, a mini application will open where you bring the photo to life. You can read more about this function here.
11 — New Instructions
We've compiled a new knowledge base and updated all the instructions. We have also created instructions for those who do albums. These instructions will help you put photos to life in your albums faster.
12 — New promotions
We thank you for your feedback on AppStore and GooglePlay. But we want to thank you not only with words but with gifts too. Leave your feedback and get a photo for your balance. Or find a friend and get a 6000r discount on a license. Check out all the promotions and take advantage of them today.
Frequently Asked Questions:
1. When is the update coming out?
— The update is already available for all users
2. How much does it cost to update?
— the update is free for all users
3. is it possible to edit QR codes that were created in the previous version?
— yes
This is all. We hope you will appreciate our work. The main thanks for the developers and the entire Stories AR team will be your feedback on the work with the platform. We will be glad if you take advantage of one of the promotions and write a review about the work of the platform. If you are not registered yet, do it now.
Still have questions? Ask in the general chat